Nordic Naturals believe that omega oils are essential to life. That is why they created many products that are containing Omega 3, 6, 9, such as fish oil and algae oil for vegans. What I love about this company is that their products are all natural and no additives are present. Secondly, I fell in love with their vegan section, especially because I need to take omega-3 supplements. I do not consume fish so getting omega-3 from food is very hard. I do eat flax seeds and walnuts but one can only take much.
Nordic Naturals carry a lot of products that are made up of perfect combination of the different omegas. Sometimes, when we are not educated, we can be consuming too much of omega 6. Also, there are many sources of omega 6 in modern diets, including most nuts, seeds, and and oils extracted from them. I believe that it is essential to keep a good balance of omega 3 and 6.
"Many nutrition experts believe that before we relied so heavily on processed foods, humans consumed omega-3 and omega-6 fatty acids in roughly equal amounts. But to our great detriment, most North Americans and Europeans now get far too much of the omega-6s and not enough of the omega-3s. This dietary imbalance may explain the rise of such diseases as asthma, coronary heart disease, many forms of cancer, autoimmunity and neurodegenerative diseases, all of which are believed to stem from inflammation in the body. The imbalance between omega-3 and omega-6 fatty acids may also contribute to obesity, depression, dyslexia, hyperactivity and even a tendency toward violence." (Dr.Weil)
This is Algae Omega. It's made from micro-algae, which is the original source of marine omega-3. Nordic Naturals Algae oil is different from other company's because "while most algae oils are short on EPA, Algae Omega's unique combination of EPA and DHA is a pure, safe, and effective source of both of these essential fatty acids." (website).
This product is sustainably sourced and supports inflammatory levels and healthy heart.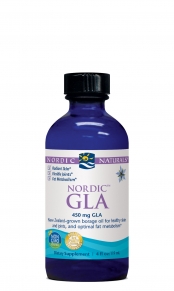 Nordic GLA™ is a vegetarian borage oil made exclusively from non-GMO, New Zealand grown borage seed. It is effective on its own, or it can be taken with omega-3 products, like the Algae oil that is described above. There's 480 mg of GLA, gamma linolenic acid. Taking this can be beneficial to radiant skin, hormonal balance, healthy joints, respiratory function, and inflammatory levels.
I am so thankful to Nordic Naturals and other brands that make vegan Omega 3 supplements.
Giveaway: Prize = Borage oil
1. Visit Nordic Naturals and let me know which products you need the most in your current diet.
2. Like Nordic Naturals page on Facebook
3. Please subscribe to my blog through email.
This giveaway ends on March 6th, 2013.
Also! please check out this awesome college scholarship that Nordic Naturals is hosting!!! It is an essay contest that is due at the end of March. You can win $5000 for college!